As we are about to re-open the doors to Freedom Links, which has been closed for nearly 2 months now, we figured what better way to kick things off than with TWO affiliate case studies?
Originally, we were just going to do one follow-along, but realized our audience probably falls into 2 main categories.  Those with money to spend, and those who are on a smaller budget.  So, that's why we decided to do two.
The first follow-along will be geared towards newbies, or marketers who just don't have a large budget to spend on links, content, design, etc.  In the second follow-along, we'll be using a much larger budget, and going after larger, more competitive keywords.
So, whether you're just starting out, or already have a solid grasp of how to rank and bank, hopefully you'll be able to extract a lot of value from our wins and losses as we maneuver these sites up the rankings and bring each of them to four figures per month.
Each case study will be updated once a month, which means you can expect a post every 2 weeks, with an update on one of the sites.  I'll try and share as much as possible without giving away the sites, so you'll be able to see us take two very different sites, in two completely different niches, from zero dollars, all the way to $1,000 per month.
Our goal with these is to obviously make money, but also to provide you with as much value as possible.  So, if there's certain things you want to see or know as we go along, just let me know in the comments!  In today's post we'll go over niches, current stats according to Ahrefs, budgets, as well as what to expect.  So, without further ado, let's crack into it.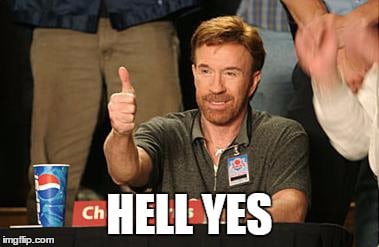 Case Study #1 – Outdoor Niche – Budget ~ $500/month
As mentioned above, the first case study will be geared towards those will smaller budgets.  Some of you may still think spending roughly $500/month to rank a site is a lot of money, but unless you have a ton of time on your hands, you need at least around this much to get the site off the ground in a decent amount of time in my opinion.  I'm sure there are case studies out there that have done it for much less, but this is what I think it will take to get it going without taking forever, or investing a lot of time into it.
Obviously the more time you have, the less you need to spend, and along the way, I'll be showing you options on how you can spend less if need be, including how to find cheap auction domains if you have the time to dig.
The site we'll be using for this case study I actually purchased at auction, as it had the keyword in the domain, and some pretty decent stats.  Unfortunately, I don't remember what I paid for it, but I think it was around $200 bucks.  Here are the current stats according to Ahrefs.

With over 100 referring domains, the site has decent stats to work off of as a baseline, but nothing crazy.  The main benefit of using this auction domain as a money site is the relevance that it has for the niche in both the domain name as well as the backlink profile.
Content and Keywords
In regards to content, there are currently 13 main posts for the site.  Of the 13, five of them need to be re-written because they were used more for placeholder content than anything, so that's what the first couple weeks will be focused on – making sure on-page optimization is done correctly and all the content is quality.
For the on-page aspect, there's a new tool I was recently turned onto that I really like called Page Optimizer Pro (POP for short) by Kyle Roof.  Basically what you do is paste your content in and then compare it to the competition on page 1.  I like it because it tells you where to put the keywords (ie. H1, H3, title, body, etc) based on what the competition is doing.  You can check out a demo of it on YouTube here.  It's not the end all be all, but it's good to use as a guideline to go off of and then you can always tweak things as you go along.
Keywords & Current Rankings
For the keywords, they range from medium – hard difficulty and most have a search volume of a few thousand per month, but there are some on the lower and higher ends as well.  Here's a look at the keywords so far.  Some of them have decent rankings already, which I attribute to the strength of the auction domain, but also because some of the content has been sitting for awhile so it has some age to it.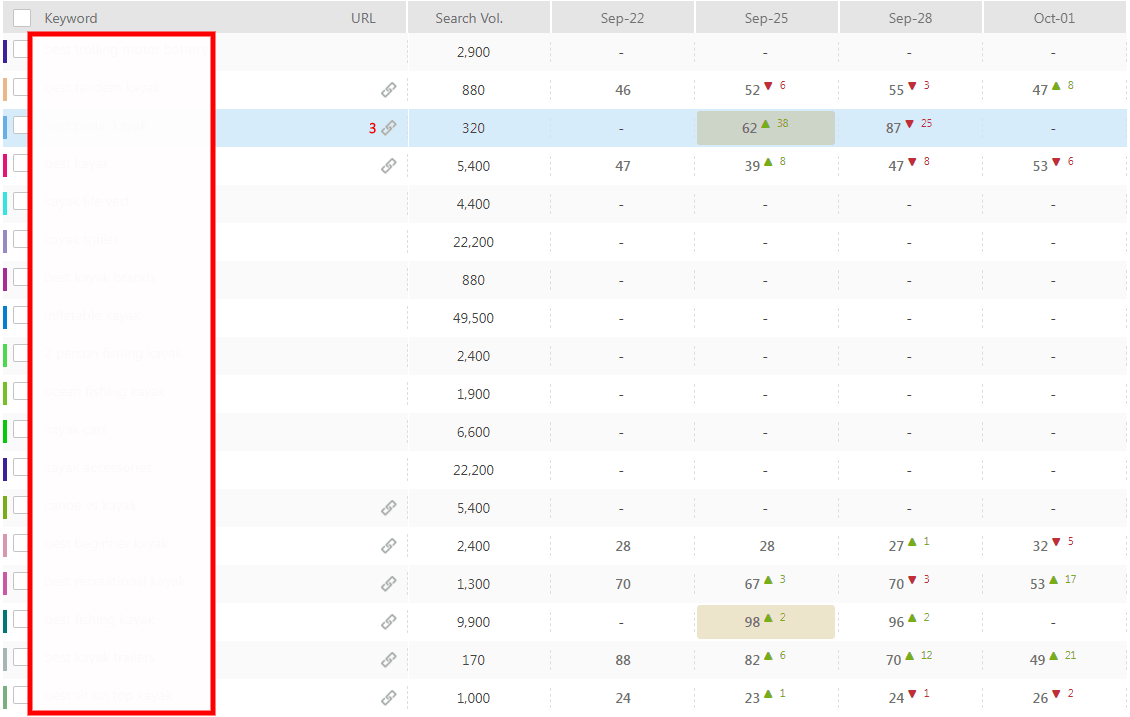 Month #1 Plan
The plan for the first month is to get all of the content written and optimized, setup Google Analytics, and begin building links.  For the link building, I'm going to build 10 PBN links and 10 Web 2.0's, with the majority of the PBN links being sent to my hub page.  Using a hub page is one of my favorite ways to achieve rankings without having to use a massive amount of links.  I'll build it and then inner link to 10-15 other pages I'm trying to rank, so that those other pages need a lot less links, compared to trying to send links to all 15 pages, which would require a lot more links in the long run.
That's pretty much it.  Hopefully we start to see some movement up the SERPs for the new pages, and continued movement for the pages already ranking :).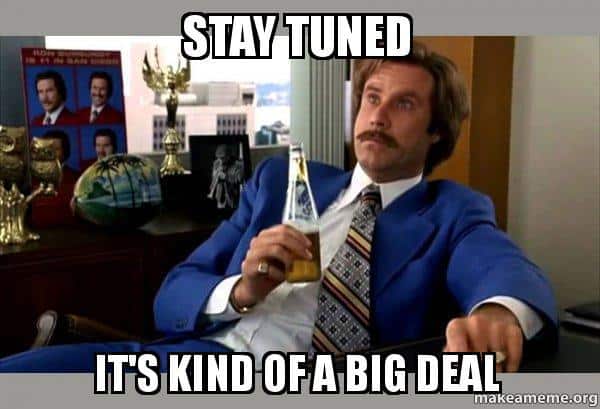 Case Study #2 – General Niche – Budget ~ $1,500/month
For the second case study, it'll be your typical Best/Top 10 site, ranking for keywords in a variety of niches.  This will be a new site and not an auction domain, so we don't have the benefit of age or links with this one.  Plus, with general sites, they tend to need more power and links because they're lacking niche relevance, so it's a bit tougher.  However, the benefit is you get to go after whatever you want.  So, finding quality keywords is easier because everything is fair game.
With a budget of around $1,500/month, we'll be able to go after some tougher keywords, but also build out the content much faster.  While it is a general site, we still want to build out SILO's and setup hub pages for niches like Tech, Home, Fitness, etc.  It costs more money to get going, and will take longer to rank, but once the authority is built up and more links are added, the ranking will get easier and easier as we add new pages and keywords.  So, it's slow going in the beginning, but well worth it once the ball is rolling.
Content & Keywords
Right now the site only has three posts, but we have 20 planned out, we just need to get them written, which will be the main focus of the first month.  These are meatier posts, ranging from 4,000 – 7,000 words per post, meaning that by the end of month 1, this site should already have 50 – 60,000 words of content, with another 50 – 60,000 more in month #2, which is pretty good.
As far as the keywords go, we've chosen some medium, hard, and extremely hard keywords.  I deem the extremely hard keywords as ones where the front page is littered with massive authority sites such as PCMag, DigitalTrends, TheWireCutter, Forbes, etc.  If we're able to crack the top 3 for these keywords, it'll be some juicy commissions, but we'll see.  I chose these mainly for the competition aspect and to see how hard it'll truly be to rank for them.  Here's a quick snapshot of the keywords so far.  There's still some that need to be added though.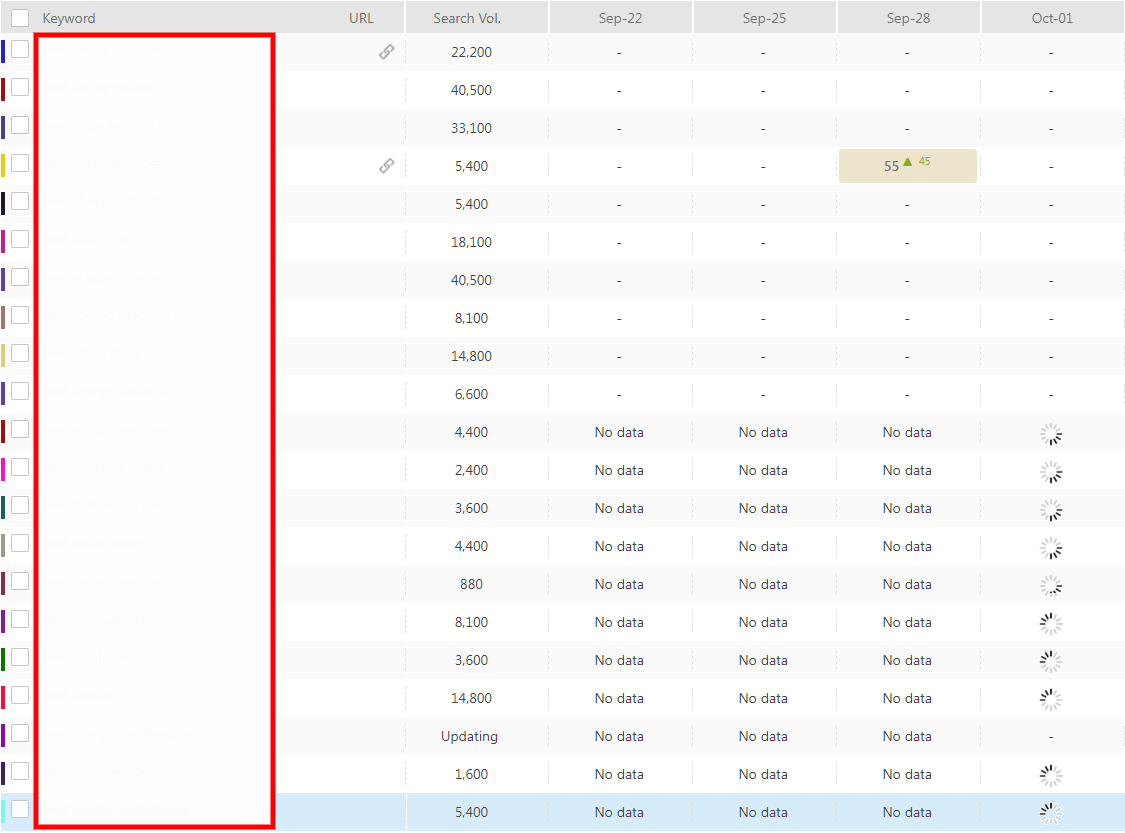 The important thing will be to make sure the on-page is on point, inner linking is done right, and that the site is loading fast.  Then it will be all about setting up the foundation in regards to links.
Month #1 Plan
The plan for the first month is to get at least 7 more articles written and published so that the site has a good amount of content on it, and we can begin building links.  As far as link building goes, the main thing we need to accomplish is setting up a good foundation seeing as it's a new site.
I like to do this using citations, social profiles, Pillow Link Cocktail, as well as Diversity Links.  All will be sent to the home page so we can start to build the authority.  Along with these, I'm going to send 5 Freedom Fighters (Niche Edits) and 5 PBN links to the inner pages to get the ball rolling.  Then in month #2 we'll begin to ramp up the amount of PBN links and Niche Edits, and also start to sprinkle in some guest posts.
That's pretty much it!  So, what do you guys think?  How long will it take us to hit $1k/month for both of these sites?  I'm interested to see myself, so stay tuned, as there'll be a new post updating each case study every two weeks.